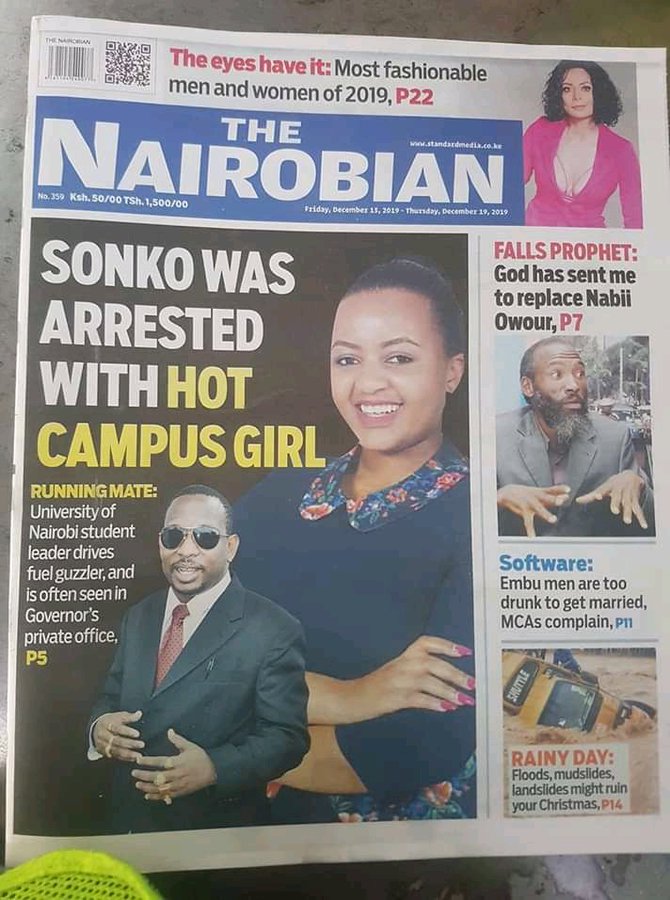 Nairobi Governor Mike Sonko was in the company ofUniversity of Nairobi Student leader Anne Mvurya during his dramatic arrest in Voi.
The Nairobian, has claimed that Anne Mwangi Mvurya, the first female student leader of UoN was in the governor's vehicle.
According to an officer who was in Voi on the fateful day, Mvurya had worn a hoodie and a cap. The unnamed source also claims that she looked nervous and pregnant. Is she pregnant for the governor?
The Nairobian further claimed that Mvurya and Sonko were both held at the Voi Police Station before being airlifted to Nairobi in a police helicopter.
Mvurya 'escaped' from Wilson airport without attracting attention as Sonko was whisked in a waiting police car.
The student leader refused to comment on the allegations that she was with the governor on the day he was arrested.
The Nairobian has been bashed over this story and a hashtag dubbed #ShameonNairobian has been trending on twitter.
https://twitter.com/VokeVoke13/status/1205347976496979969
https://twitter.com/AgumbaIsaac/status/1205195030274682880