Cyclists in Nairobi blocked Thika Superhighway on Saturday morning  during a protest following the death of Caleb Omwoyo who was killed after colliding with a bus on September 16.
The protest was in memory of the 22-years-old who died after hitting an instantly stopped bus from Kenya Mpya Sacco on Wednesday.
The cyclists carrying charts with different messages protested of reckless driving habits, especially passenger service vehicles.
They called upon the Government to introduce a cycling lane in public roads and the need of every motorist to embrace respect for every road user.
Cyclists assembled at Jevanjee Gardens. Nairobi CBD and began cycling towards Thika Superhighway.
In their hundreds, they caused a disruption along the busy road where they chanted "Justice for Caleb" while lifting their helmets in the air.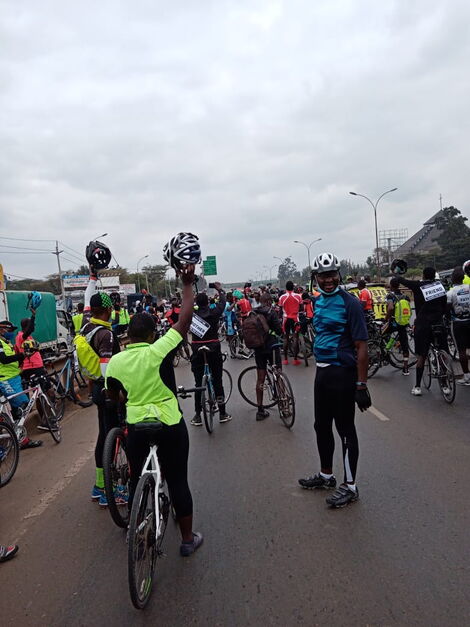 Nairobi Women Rep Esther Passaris who had joined them decried that Omwoyo was only 22 when he died.
"Thank you for coming out and when you go home, say a prayer for Caleb and all the people who have lost their lives because of going out in their bicycles," she said.
She highlighted the government's need to consider cyclists while coming up with road designs to give them the space needed.
A group of cyclists led by Crispus Mahea launched a petition to get justice for the late Omwoyo demanding the arrest of the bus driver who was involved in the accident that killed him.